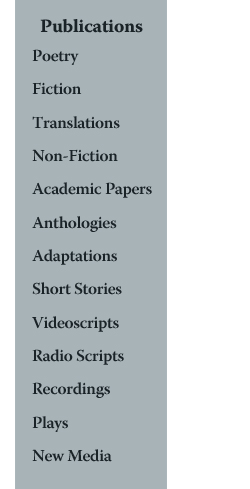 Selected Publications
Academic Papers
2010 "Ebenezer Le Page is Alive and Well on Prince Edward Island: A poet tracks Guernsey's fictional hero across her own island," proposal for paper accepted for upcoming International Small Islands Studies Association: Art, Islands, and Islomania: 6th International Small Islands Cultures Conference, Guernsey, June 23-26, 2010.

2007 "Swimming for Home: The Cadence of Stroke and Sound of Water in the Written Word," presented at the Third International Islands Conference, Charlottetown, June 20-23, 2007.

2003 "The Only Book Possible Today: The Shape of Human Thought," presented at The Fun of Reading: International Forum on Children's Literature to mark the 50th anniversary of the National Library of Canada, June 26-30, 2003. Paper was delivered during session, "Reading in an Electronic Environment."

2000 "Riding the Borderlands between Reality and Fantasy in Late-Twentieth-Century Children's Fiction." Paper presented at Popular Culture and American Culture Associations, Albuquerque, New Mexico, February 9-12, 2000.

1999 "A good place to be a writer," UPEI Montgomery Institute Lecture Series, May 10, 1999, public talk, delivered at the Confederation Centre Lecture Theatre, and recorded by CBC Radio One; excerpts broadcast May 11, 1999.

1996 "L.M. Montgomery and the Creation of Prince Edward Island," presented at L.M. Montgomery International Symposium, U.P.E.I., 1996 "L.M. Montgomery and Canadian Culture."

1996 "Writing the Landscape: Montgomery's Island and Wilder's Prairie." Popular Culture Association Conference, Las Vegas, Nevada.

1994 "Runaway Girls and Sharp Knives: The Quest for True Homes," presented at the Thomas H. Raddall Symposium, Acadia University, Sept. 23-25, theme: "The Child in Atlantic Literature and Culture." This paper was published in Children's Voices in Atlantic Literature and Culture: Essays on Childhood edited by Dr. Hiliary Thompson (Toronto: Children's Literature Press, 1996).