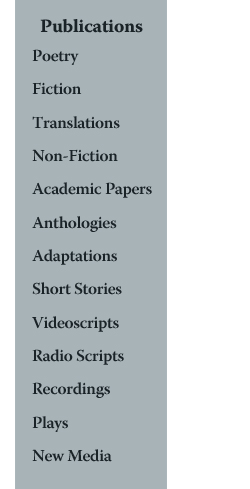 Selected Publications
Poetry
Afternoon Horses. Charlottetown: Acorn Press, 2009, 80pp.

Rearranging the Sky, chapbook. Charlottetown: Indigo Press, 2007, 16 pp.

Subtracting by Seventeen (and other poems) chapbook published by Saturday Morning Chapbooks, Third Series, edited by David Helwig, the late Joseph Sherman, and Hugh MacDonald. September 2005, 16pp. "Subtracting by Seventeen," a long poem, won 2005 Milton Acorn Poetry Award, first place.

"Gateleg table," Writing ON the Wall series, Confederation Centre Art Gallery & Museum publication and exhibition, June 15 through September 15, 2003.

"This is a dream or war," in Artists for Peace 2004, Blue Grama Publications, ISSN 1710-4963, bluegramapublications.com/Artists4Peace/kessler1.htm, March 2004.

"That story," 2003 CBC Poetry Face-Off (one of the poems commissioned by CBC Radio from poets across Canada on the theme of escape for annual poetry competition); poem aired regionally in May 2003.

"I am the road," poem commissioned by CBC Radio. P.E.I.'s first poet laureate, John Smith, and I were both commissioned to write poems about Island red roads; we did so and interwove our two poems in performance for broadcast regionally, August 2002.
See also: Poetry in Anthologies